The United Soybean Board (USB) invites soybean farmers with a desire to take a look at their customers beyond the elevator and to learn more about the soy checkoff's role in marketing U.S. soy, to take part in their See for Yourself program. Tina Holst, Chilston, Wisconsin soybean farmer, took advantage of this opportunity last year and I caught up with her during the 2016 Young Farmers and Ranchers Conference in Kansas City, MO to learn more about program.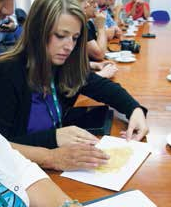 "They take ten soybeans farmers from the United States every year to experience markets abroad. This past August we went to China where we were able to see how that market is established and growing. We also visited Vietnam and that market is in the process of establishing," Holst said.
No destination has been announced for the 2016 See for Yourself trip set for August 8-13, but applications are being accepted through April 1. USB will cover all related rooming, meals and travel expenses. "For a week of your time, it gives you a phenomenal experience to see not only what we are doing here to promote our soybeans but also what is happening when they hit the end customer," she added.
Listen to my complete interview with Tina here: [wpaudio url="http://traffic.libsyn.com/zimmcomm/yfs-16-usb-host.mp3″ text="Interview with Tina Holst, US Soybean Farmer"]