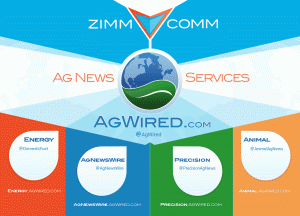 Precision.AgWired, a site specifically designed to bring you the latest information and resources on agricultural innovations to make farming more productive and profitable. That includes precision technology, seed, fertilizer, and more.
Twitter – @PrecisionAgNews
Facebook – Facebook.com/precisionagwired
The site is updated daily to provide timely precision farming information, links to other resources and coverage from industry trade shows such as the National Farm Machinery Show, Commodity Classic, Info Ag Conference, and Farm Progress Show. In addition, you'll find interviews with technology experts and leading growers who have incorporated precision technology into their operations.
Precision.AgWired is published by ZimmComm New Media, LLC, owned by Chuck and Cindy Zimmerman. ZimmComm specializes in multi-media content creation for the agricultural industry and maintains several online publications, including Agwired.com, DomesticFuel.com and Animal.AgWired. The company also operates a customized news release production and distribution business called AgNewsWire which features their patented Talking News Releases, as well as links to audio and photos from all ZimmComm publications. AgNewsWire distributes news releases to over 2100 agricultural journalists.
AgWired Contacts
President/Co-Founder – Chuck Zimmerman – @agriblogger
VP/Co-Founder – Cindy Zimmerman – @farmpodcaster
VP of Content – Jamie Johansen – @JamieDJohansen
Creative Director – Joanna Wilkinson – @OneoftheJoannas
Address:
ZimmComm New Media, LLC
1507 Templemore Dr.
Cantonment, FL 32533
850-780-6617
Chuck Zimmerman