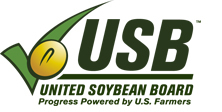 Tom Vilsack has appointed 17 farmers from across the country to serve as directors on the United Soybean Board (USB).  The appointees will be sworn in at the upcoming annual meeting in St. Louis.
Five of the directors are newly added, 12 are returning members.  The USDA has also announced that the USB will be increasing their farmer-leaders from 70 to 73 as soybean production in the US increases.  The three new members will be appointed from Missouri, New Jersey, and Wisconsin.
This year's new volunteer farmer-leaders invest soy checkoff funds on behalf of all U.S. soybean farmers in projects to improve farmer profit potential. With unpredictable prices, growing production worldwide and more competition, U.S. soybean farmers will need more innovation, such as improved seed varieties and technology, new ways of generating demand and new methods for increasing the value they receive from soybean meal and oil.
"We are thrilled to have these farmer-leaders be part of a new chapter with the United Soybean Board," says Bob Haselwood, USB chairman and soybean farmer from Berryton, Kansas. "The checkoff is dedicated to using advancements in technology to help U.S. soy remain a top choice for our customers, and these farmer-leaders will be instrumental in helping us accomplish that."