The latest report from USDA's Economic Research Service on "Recent Adoption of Precision Agriculture" is about five years behind the times.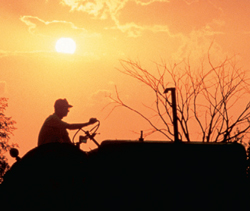 The report heralds that agriculture is "On the Doorstep of the Information Age" – using mostly information from 2005-06. According to the report, "recent data from the Agricultural Resource Management Survey (ARMS) show that use of yield monitors, often a first step in using precision technology for grain crop producers, has grown most rapidly, and was used on 40-45 percent of corn and soybean acres in 2005-06."
The information for the study relies primarily on 2001 and 2005 surveys of corn, 2002 and 2006 surveys of soybeans, and 2004 and 2009 surveys of winter wheat – "the 2010 corn survey results were not yet available when this report was prepared" – which was this year. While there is some interesting data in the report, it is woefully out of date. Just think, if the survey had included questions about the use of smartphones on the farm, it would have been zero, since it was January 2007 before the first iPhone was introduced – and we're now on the fifth generation. Point being, the adoption of all types of new technology has literally skyrocketed in the last five years.
Be that as it may, the most interesting findings in the report show that precision really does pay for farmers. For example, they found that corn and soybean yields were significantly higher for farmers using yield monitors compared to those who did not. In addition, farmers using yield monitors had lower per-acre fuel expenses. Average fuel expenses were lower, per acre, for farmers using variable-rate technologies for corn and soybean fertilizer application, as were soybean fuel expenses for guidance systems adopters and adopters of GPS mapping and variable-rate fertilizer equipment had higher yields for both corn and soybeans.
With all this new technology, you would think that USDA could find a way to gather, compile and disseminate information a little bit faster.