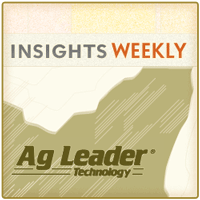 As the nights begin to cool, we know harvest is just around the corner. But before your mind gets totally wrapped around the culmination event of your hard work, take a break to visit and learn at one of the best outdoor farm shows, the Farm Progress Show, Aug. 31 through Sept. 2 near the central Iowa community of Boone.
If you're going to the show, Ag Leader Technology has a special free t-shirt offer with a chance to win an EDGE display. Before you go, just visit the Ag Leader Facebook page and click on the invite under the tab 'EDGE Giveaway.' Then fill out the survey and bring it to the Ag Leader booth (Lot 517).
While at the booth, check out the live demonstration of the OptRx Crop Sensor. A Hagie sprayer, complete with the OptRx sensors, INTEGRA display and ParaDyme steering system, will be gathering crop condition data on live corn plants.
Also check out the new SMS Mobile PC software that will be available this fall for PC-based devices such as laptops, netbooks and tablets that run Windows XP, Vista or Windows 7.
And stop inside the tent to learn more about all the products from Ag Leader—from displays and guidance to planter/sprayer controls and software that handles all the data. Product experts will be on hand to help you learn what can best fit your operation.
Visit these links for more information.
Farm Progress Show Website http://www.farmprogressshow.com/
Ag Leader Precision Point Blog: Calling Farm Progress Show Attendees!
http://www.agleader.com/2010/08/23/calling-farm-progress-show-attendees/
Ag Leader Facebook page http://www.facebook.com/AgLeader?v=app_4949752878
Survey for Free t-shirt and EDGE drawing http://www.agleader.com/mirror/FB-EDGE-Survey.pdf
OptRx Crop Sensor http://www.agleader.com/products/directcommand/optrx/
Fall Release of SMS Mobile Software http://www.agleader.com/2010/07/19/ag-leader-announces-fall-release-of-sms-mobile-pc/