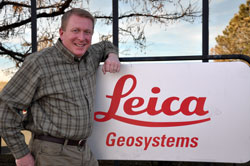 I'd like to introduce the newest sponsor for our AgWired.com website and that's Leica Geosystems. They are also providing supporting sponsorship here on Precision.AgWired.com as well.
Today the company announced that Harlan Little has been named the North American Business Manager for Leica Geosystems' agriculture group.

Little started with Leica Geosystems in late January, and will be based out of Leica Geosystems NAFTA headquarters in Atlanta.
With more than 20 years of experience in sales, marketing, management and precision agriculture, Little is a great fit for the Leica agriculture team in North America.
"Harlan is a great addition to the team and brings with him a wealth of ideas and industry contacts to help grow our business throughout the U.S. and Canada," said Rob Kiernan, global sales and marketing manager. "We are ready to take our business to the next level with new leadership and a suite of new products being introduced this year."

Little has been in the precision agriculture arena for some time with sales, management and marketing positions at AGCO, Raven and Ag Chem Equipment.
"I am very excited at the opportunity to help Leica expand the ag business in North America," said Little. "We have a great line-up of products and people who will continue to focus on delivering cost effective tools to farmers."
For more information about Leica Geosystems' agriculture team or the ag guidance products offered, visit www.mojoRTK.com.