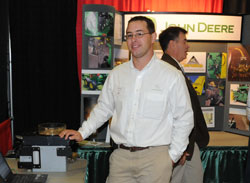 One of the ways dairy farmers are using precision agriculture is in the area of forage production. It allows them to measure the moisture in it very precisely?
John Deere was on location at World Dairy Expo once again to showcase their HarvestLab Moisture Sensor.
I met and spoke with Luke Kerns. he says the unit uses a near infrared sensor that mounts on the spout of their forage harvester so it measures moisture as you're chopping. He says that when it's combined with other components on their machines you get data that lets you map your fields to variably apply manure or other nutrients to your fields to increase yields and forage quality. He says it also provides documentation for CAFO plans.
You can listen to my interview with Luke here: [audio:http://zimmcomm.biz/john-deere/wdx-08-kerns.mp3]