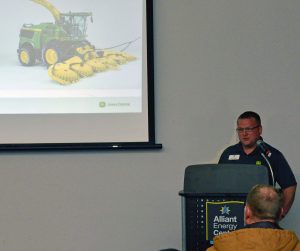 Whether you are a beef or dairy producer, or a custom harvester, there is a new John Deere 9000 Series Self-Propelled Forage Harvester (SPFH) for you.
Chris Borgman, Deere Product Marketing Manager for Commercial Hay and Forage Products, introduced the new models at the World Dairy Expo earlier this month in Madison, Wisconsin. "What it all boils down to is quality of feed, capacity and efficiency, that is what the 9000 series is," said Borgman.
The four models, all with final Tier 4-compliant engines include:
9600 616 hp (460 kw) (625 ps) John Deere 6 cyl. 13.5L PowerTech Engine
9700 759 hp (566 kw) (770 ps) Liebherr V12 24L Engine
9800 858 hp (640 kw) (870 ps) Liebherr V12 24L Engine
9900 957 hp (713 kw) (970 ps) Liebherr V12 24L Engine
"That's a lot of horsepower that we are pushing through this," Borgman said. "We are emissions compliant but we're now much more efficient as well." The improved performance and capabilities of the 9000 Series enable producers and custom harvesters to obtain the highest possible return on investment under narrow harvesting windows where high-capacity and high-quality feed are the goal.
Learn more from Borgman by listening to his presentation and interview here –
Presentation by Chris Borgman, John Deere
Interview with Chris Borgman, John Deere
John Deere at 2018 World Dairy Expo Photo Album