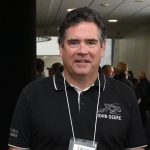 The all-new 9000 Series Self-Propelled Forage Harvesters can provide producers with both high-capacity harvesting and high quality forage, according to Tim Meister, division manager for marketing at John Deere, who spoke to producers at World Dairy Expo last week.
"Ultimately, high-quality feed helps livestock producers improve their feeding efficiency, animal health and productivity, while reducing their feeding costs," said Meister. "The 9000 Series Self-Propelled Forage Harvesters produce superior silage quality that lay the foundation for a healthy and productive herd, which produces high milk or beef yields at low input costs."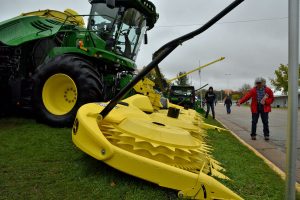 Compared to its predecessor, the 9000 Series is 10 percent more productive per horsepower and offers a 10 percent improvement in kernel processing. Up front, a new 772 12-Row, Big Drum Corn Header consumes up to 7 tons of forage per minute. When paired with the new XStream

kernel processor, customers achieve optimal corn silage processing, regardless of length of cut. Fuel consumption has also been improved by 10 percent per ton when compared to the 8000 Series, and wear parts on the new machines are built to last three times longer.
Learn more about how Deere's new forage harvesters help maintain silage quality in Meister's presentation at WDE18 –
Presentation by Tim Meister, Division Marketing Manager John Deere
John Deere at 2018 World Dairy Expo Photo Album