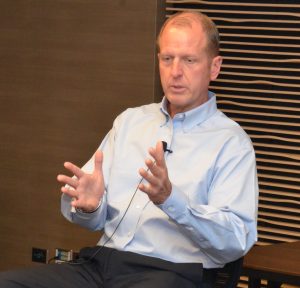 The 2017 American Seed Trade Association (ASTA) CSS & Seed Expo has grown into quite the show over the years and serves as a great place for agribusinesses to communicate their works with their peers and ag media. StollerUSA took advantage of that holding a press conference to discuss their focus.
"We are not growing anymore land so we have to optimize the acreage that we currently have in corn, soybeans, wheat, etc. Utilizing our seed treatment platform and our other products throughout the growing season is when you will see the yield bump, which the grower needs," said Don Botkin, Division Sales Manager.
Botkin says Stoller is optimistic looking into 2018. During the press conference, they reported a good 2017 in terms of sales globally. "We do have a new product guide that was introduced during the show. We are revamping our website and we are investing dollars into training initiatives," Botkin said.
Listen to my complete interview with Don and the press conference held at #ASTACSS here: Interview with Don Botkin, StollerUSA StollerUSA Press Conference