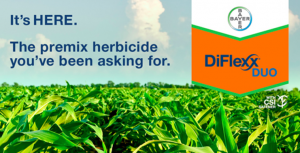 Challenges with resistant weeds were still seen across the country this season. However, Bayer CropScience beleieves these resistant weeds have met their match with a new herbicide introduced before the 2017 season.
We visited with Frank Rittemann, selective corn herbicides product manager at Bayer, last week at the Farm Progress Show to learn more about the key benefits of DiFlexx® DUO to growers.
"Many growers who used DiFlexx DUO during its first season saw the same results we observed in trials," said Rittemann. "It cleaned up weeds that other herbicides left behind. DiFlexx DUO provides powerful control against the particularly tough glyphosate-resistant weeds that many growers struggle with."
Rittemann said they like to refer to DiFlexx DUO as a zero tolerance weed control. The simple goal for growers is 'no weed left behind.' A recent University of Nebraska-Lincoln trials featured an extensive look at broadleaf weed response to corn herbicides. DiFlexx® DUO demonstrated a complete control against the full spectrum of problem weeds, controlling up to 95% of waterhemp, Palmer amaranth, morning glories, cocklebur and lambsquarters.
Listen to my complete interview with Frank to hear the entire story: Interview with Frank Rittemann, Bayer
View all photos from FPS photos here: Farm Progress Show Photo Album
View Bayer photos here: Bayer CropScience at #FPS17 Photo Album