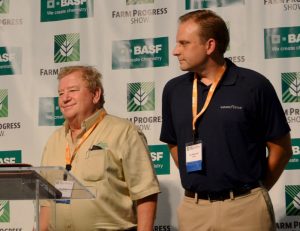 The United Soybean Board (USB) and Goodyear made an exciting announcement at the Farm Progress Show yesterday. Together they are introducing the new Assurance Weather ready tire, made possible with soybean oil.
"The launch of new, innovative products to meet the ever increasing demands of our customers allows us to showcase our latest technology developments and that leads me to the reason for us being here today. In developing one of our latest material's technologies we have crossed paths with the American farmer," said Bob Wolosyznek, a Goodyear engineer. "I am proud to announce Goodyear's successful application of soybean oil in commercially available passenger tires- a first in our industry."
The process was a team effort with USB, Wolosynek confirms. Soybean oil has been on the company's radar for many years, but it was the involvement of the soybean checkoff that brought the idea back to the front and helped push it over the finish line.
"The Soy checkoff is committed to looking at our crop as more than just bushels," said USB chair, John Motter. "We're considering the value of our soybeans and how we can get more back to the farm gate. We're leading the way by meeting our end users needs with a sustainable, reliable crop that preforms in the ways they need it to. This tire is a clear example of how U.S. soybeans and your checkoff is doing just that."
And while you may think choosing soybean oil is a matter of sustainability, it is that and so much more. Soybean oil actually improves flexibility of the tire at low temperatures, provides greater traction in both rain and snow, and mixes easily with the rubber compound- resulting in less energy for production. In the end, Wolosynek says, soybean oil met the challenge of their performance goal.
Learn more about Assurance Weather ready tires in the press release here:USB and Goodyear Press Release