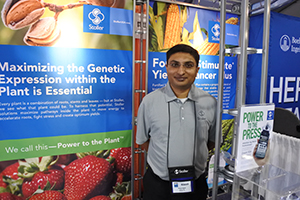 Chief Chemist and GLobal Director of Compliance for Stoller USA, Dr. Ritesh Sheth, was at the 2017 Ag Media Summit representing Stoller during the Info Expo. A new product they were spreading news about was their Fortified Stimulate Yield Enhancer Plus, a plant growth regulator (PGR) for optimal yield production.
"The reason we are launching this product is that it is the only product on the market that has four plant growth regulators in a stable formulation. We are trying to educate farmers that PGR's are essential," Dr. Sheth said.
Farmers know seeds, nutrients and pesticides are essential, but likely don't consider PGR's. Dr. Sheth said that PGR's regulate how well the nutrients are taken up. They are similar to a human bodies hormones, which control our overall health. He also stressed the beauty of this product – it's good for all crops.
The PGR's or hormones found in Fortified Stimulate Yield Enhancer Plus are cytokinin (CK), gibberellin (GA), and two auxins (IAA and IBA) formulated in the ideal ratio of 2:1:1 which adapts through time: initially CK, GA, IAA for triggering plant growth, then: CK, GA, IBA for developing better yield characteristics.
Listen to Chuck's complete interview with Dr. Sheth here: Interview with Dr. Ritesh Sheth, Stoller
View and download photos here: 2017 Ag Media Summit Photo Album