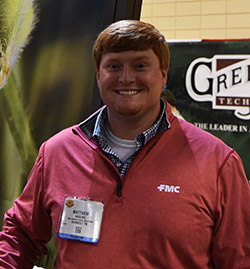 In the Mid-South the challenge is frogeye leaf spot, according to FMC Technical Service Manager Matt Wiggins. "My region here in the mid-South, that's primarily the disease we're chasing in soybeans," said Wiggins at the recent Farm and Gin Show in Memphis.
Thankfully, FMC has a relativity new product designed to take care of that. Topguard EQ is a tank mix of two products that can be used on corn, soybeans, wheat and cotton.  It offers long residual control and it offers plant health benefits as well.
Of course, crop protection products should be only one part of a disease management plan, Wiggins reminds growers.  For frogeye leaf spot other alternatives include planting certified clean seeds and crop rotation to manage residual.
Wiggins offers other helpful advise in his interview with Chuck Zimmerman here: [wpaudio url="http://traffic.libsyn.com/zimmcomm/farm-gin-17-fmc-wiggins.mp3″ text="Interview with Matt Wiggins, FMC"]