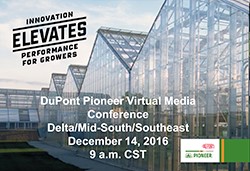 With the theme of "Innovation Elevates Performance for Growers," DuPont Pioneer used virtual press conferences this week to unveil new corn and soybean products by region.
Pioneer is launching 54 new A-Series soybeans for North America; and 53 new top-yielding corn products as part of its expanded lineup for 2017 spring planting.
A-Series soybeans are "the highest yielding line of soybeans" in Pioneer's long history, the result of innovative soybean research programs and the DuPont Pioneer proprietary Accelerated Yield Technology 4.0 (AYT 4.0). The corn products range from 72 to 118 comparative relative maturity (CRM) and feature 29 new genetic platforms, all cultivated from the DuPont Pioneer global germplasm collection.
Listen to the Delta/Southeast regional presentation of the dual nationwide announcements and follow along with the powerpoint: [wpaudio url="http://traffic.libsyn.com/zimmcomm/dupont-pioneer-virtual-presser-12-14-16.mp3″ text="DuPont Pioneer Virtual Presser"]