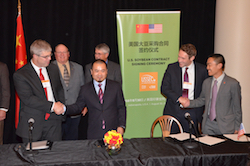 During the 2016 U.S. Soy Global Trade Exchange in Indianapolis, buyers from China committed to buy nearly $1.8 billion worth of U.S. soy, totaling 146 million bushels of new crop U.S. soybeans. Several of these commitments were made official at a signing during the event, hosted by the U.S. Soybean Export Council (USSEC).
"China continues to be the No. 1 importer of U.S. soybeans," says Xiaoping Zhang, USSEC Country Manager – China. "International buyers have many options, so the fact that Chinese buyers purchase such a magnitude from the U.S. is testament to the U.S. Soy Advantage and the quality and sustainability that it provides."
Last year, U.S. soybean farmers exported a record 62.88 million metric tons of soy and soy products, valued at $27.7 billion – a record high. Economists are predicting even more in 2016.
More than a dozen Chinese representatives are in attendance this week at the Global Trade Exchange to network with U.S. farmers and learn more about the sustainability of U.S. soybeans. In addition to signing commitments for U.S. soy, they will network with buyers from other countries around the world, learn from industry experts and get a firsthand glimpse of U.S. farmers' sustainable practices.
The USSEC connects U.S. soybean farmers with opportunities to improve human nutrition, livestock production and aquaculture. This mission is accomplished with a science-based technical foundation and a global network of partnerships including soybean farmers, exporters, agribusiness and agricultural organizations, researchers and government agencies.
Following the signing I spoke with Xiaoping to learn more. Listen to my complete interview here: [wpaudio url="http://traffic.libsyn.com/zimmcomm/ussec-16-xiaoping.mp3″ text="Interview with Xiaoping Zhang, USSEC China"]
View and download photos from the event here: 2016 US Soy Global Trade Exchange Photos