Driving to the Bayer Showcase Days plot tour in Dawson, Georgia last week I saw acres of cotton setting bolls throughout the countryside from north Florida, through southeast Alabama and southwest Georgia. It really is the Land of Cotton there, but there's more soybeans in the land as well.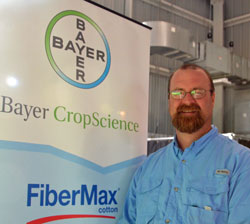 Bayer southeast agronomist Josh Mayfield says they are really excited about the Liberty Link soybean varieties for this part of the country. "We featured late group 4 maturities all the way to early 7s, which covers the span of soybean varieties and maturity groups that our growers are looking for," he said.
He adds that they are seeing growth in soybean acreage in the southeast as well as a shift in how growers are managing soybeans "to really planning and carefully selecting and trying to boost their yields of earlier planted soybeans." Mayfield says they are also seeing a shift in "ultra-late" soybean production, behind field corn.
As a different mode of action, Liberty herbicide is helping growers facing glyphosate resistance, according to Mayfield. "Liberty is a very safe product post-emergent herbicide with broad spectrum weed control," he said. "It's really been a tool that irrigated and dryland growers have been able to use to combat resistant pigweeds."
Learn more in this interview: [wpaudio url="http://traffic.libsyn.com/zimmcomm/showcase-ga-josh.mp3″ text="Interview with Josh Mayfield, Bayer"]
Bayer Showcase Days Photo Album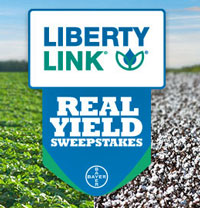 Growers have the chance to win up to 500 acres of the LibertyLink system for either cotton or soybeans with the 2016 Liberty Link Real Yield Sweepstakes. There will also chances to win 200 acres of the LibertyLink system for cotton and soybeans monthly. Two winners will be drawn each month through December. Once again, state FFA will have the chance to compete for dollars to support their organizations.
Growers can participate in the Sweepstakes by attending one of the Bayer Showcase Plot Tours, or by visiting RealYieldSweepstakes.com and entering their information. Six cotton growers and six soy growers will win 200 acres of LibertyLink, and one lucky winner will win 500 acres of LibertyLink for the crop of their choice.