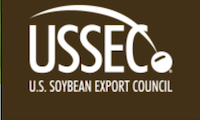 The U.S. Soybean Export Council (USSEC) has just announced the approval of three biotech soybean traits by the European Union.  Now ready for import and processing are:
Monsanto's Xtend (dicamba x glyphosate MON87708 x MON89788)
Monsanto's Vistive Gold (high oleic x glyphosate MON87705 x MON89788)
Bayer CropScience's Balance GT (glyphosate x HPPD inhibitor FG72)
"The EU's approval of these events is welcome news for U.S. soybean farmers," said USSEC chairman Laura Foell, a soybean grower from Schaller, Iowa. "We're happy that we can supply our European customers with a reliable supply of safe food."
American Soybean Association President, Richard Wilkins weighed in as well. "We are very relieved to see these three traits approved for import into the European Union, as today's announcement represents a clearing of an important hurdle for the commercialization of these valuable products in the U.S. In Europe, the approval means that the EU's livestock and feed industry, which is more than 70 percent dependent on imported feed, can get the high-quality protein it needs. In the U.S., American farmers need an ever-increasing range of tools to tackle the challenge of resistant weeds that now impact nearly every soy-growing state. Similarly, with the continuing move away from trans-fats in American diets, farmers need additional tools to produce soybeans that meet that market demand as well."
Europe is one of the largest customers of U.S. soybean farmers with over 165 million bushels of soybeans in exports already this year.