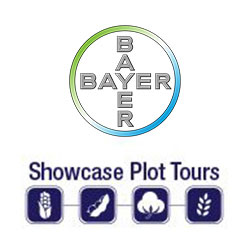 Starting today, growers around the country will have the opportunity to visit a local Bayer Showcase Days event to learn about the most recent advances in managing weed resistance; sudden death syndrome in soybeans; nematode pressure; and other agronomic challenges. The events will also feature seed traits, varieties and hybrids and demonstrate the success of various Bayer products used on corn, soybeans, cereals, canola and cotton crops.
Showcase Days consists of a series of events scheduled in fields around the country, tailored to provide growers with solutions for their agronomic challenges. Sponsored by Bayer, specialists and local agronomists will be on site to discuss problems and provide solutions, specific to local growers' fields, soil profiles and environmental conditions.
"Growers have a lot of information to absorb every year, as they plan for the next season," said Bayer Marketing Manager, Malin Westfall. "These Bayer Showcase Days help growers wade through a lot of that information in a concise way. We invite growers to visit us, see products at work and get honest answers to their questions."
The Showcase Days road tour will hit 13 states between July 6 and September 13 and growers can register for their local Showcase Days event at ShowcasePlotTours.Bayer.us. This site also includes information for locations and events. Attendees can also enter the Real Yield Sweepstakes onsite for a chance to win prizes like a 500 acre field of LibertyLink for soybeans or cotton.