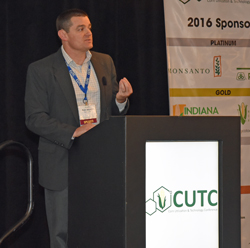 Rob Meyers recently attended a panel discussion on sustainability at the Corn Utilization and Technology Conference on behalf of his company, PepsiCo.  His message: sustainability should be expected.
Across the supply chain, he says, we've reached the point that once happened with food safety.  Everyone came together, everyone worked to make food safer.  Once again collaboration will be an important part of taking sustainability to the next level, and that level shouldn't leave consumers confused about how their products are grown or raised.
"It is the responsibility of consumer package goods companies like ourselves to just embed sustainable practices within our products," says Meyers.  "I don't think it needs to be a consumer choice, it just needs to be an expectation and obligation for consumer companies to deliver."
PepsiCo knows first hand how confusing food information can be.  Recently the company asked consumers: what is in a bag of Lays potato chips?  Answers included many things, including some sort of chemical reaction needed to make a chip.  To bring people a little closer to an understanding of where food comes from, the company added bar codes to packages that introduced the grower behind that bag of chips.
Some consumers are driven to local farmers and markets in order to make that connection, but PepsiCo thinks they can accomplish the same goal in a different way.  Its up to big companies to let the consumer know what is happening with their food, Meyers believes.
Listen to more of Meyer's interview here: [wpaudio url="http://traffic.libsyn.com/zimmcomm/cutc-16-meyers-pepsi-2.mp3″ text="Interview with Rob Meyers, PepsiCo"]
Check out pictures from the conference: 2016 CUTC Photo Album;