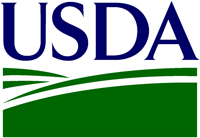 The 2016 Prospective Plantings report out today from USDA's National Agricultural Statistics Service (NASS) shows farmers expect to plant more corn and less soybeans this year.
U.S. corn growers expect to plant 93.6 million acres to corn this year, the first increase in corn planted acreage since 2012 and, if realized, will be the third largest corn acreage since 1944. Farmers in 41 out of the 48 states expect to either maintain or increase the number of acres they plant to corn. Growers in Illinois, Iowa, Kansas, and North Dakota expect to increase their corn acreage by 400,000 or more acres in 2016.
In contrast, U.S. soybean growers expect to reverse the recent trends, which saw several record-high years. In 2016, growers expect to plant 82.2 million acres to soybeans, a less than one percent decrease from 2015. In Louisiana, Minnesota, and Mississippi, growers expect to decrease their soybean acreage by 200,000 acres or more in 2016. Despite the overall decrease in acreage, growers in North Dakota, Pennsylvania, and Wisconsin expect to see record-high soybean acreages in their states.
Farmers also indicated they expect to plant nine percent less wheat and 11 percent more cotton this year compared to 2015. All wheat planted area for 2016 is estimated at 49.6 million acres and all cotton planted area for 2016 is estimated at 9.56 million acres. Also noted in the report, rice plantings expected to increase 17% this year.
The bad news from the report is that it suggests low prices for corn and rice will continue, extending the current farm downturn, according to American Farm Bureau Federation (AFBF) economist John Anderson.
"The report really highlights how challenging the market is right now for major crops," said Anderson. "We currently have adequate supplies both in the U.S. and globally in these commodities. It doesn't look as though that will change. If we have normal yields, that supply side pressure will not ease up much."
The 93.6 million acre prospective plantings figure for corn is up from 88.6 million acres planted last year, or close to three times the expected increase of 2 million acres. Rice prospective plantings were also well above market expectations at 3.064 million acres versus USDA's projected rice plantings at 2.8 million acres. If this projection holds, it will be the first time since 2010 that rice acreage has topped 3 million acres. Recent tightening of world rice supplies may limit the damage from today's report, but forecasts still suggest significant price drops are on the way.