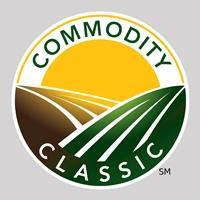 The 2016 Commodity Classic is right around the corner, held March 3-5 in New Orleans, Louisiana. The event promises to be the biggest ever, with the largest trade show in event history and record attendance. The AgWired Team will be their in full-force to cover it all thanks to our sponsors BASF and John Deere.
"Commodity Classic is all about helping farmers become even better at what they do. The quality, relevance and diversity of these Learning Center Sessions is a direct result of the farmer-focused, farmer-driven focus at Commodity Classic," said Commodity Classic Co-Chair Wesley Spurlock, a Texas corn farmer. "Farmers review the proposals for Learning Center Sessions and select those that will have the greatest value and bottom-line impact for their colleagues who attend the event. We want farmers to leave Commodity Classic feeling better informed, inspired and energized."
If you are planning on attending, I suggest downloading the Commodity Classic mobile app to build your own schedule, receive alerts and keep up on event details. If you can't attend, don't worry. We will be posting daily on our sites as well as live tweeting. Be sure to give @AgWired and @PrecisionAgNews a follow on Twitter.