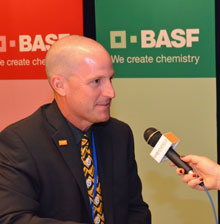 According to a recent survey by BASF Ag Products, a growing number of farmers are utilizing seed treatments on their soybean acreage to protect their crop and maximize their return on investment. The survey of 250 growers with at least 1,000 corn and soybean acres found that 93% used a seed treatment or inoculant for soybeans in 2015.
"The seed treatments are a great way to set up their crop for the best chance for yield," said BASF US Crop Seed Enhancement Manager Steve Bergschneider. At the same time, he noted that the survey found a need for continued seed treatment education at the grower level. "A lot of farmers don't necessarily know what's being used as their seed treatment so they're relying on a retailer to make that decision for them," Bergschneider said. "I think that's an opportunity for us to educate them so they have a better understanding when they're making that decision."
Bergschneider says this will become even more important in the future with an increasing number of seed applied technologies heading to market. "BASF has a healthy pipeline of products coming down the line over the next four to five years, several being seed treatment products, from active ingredient products, to biologicals, to functional coatings," he said.
In this interview, Bergschneider talks more about BASF's seed solutions portfolio and the benefits for farmers: [wpaudio url="http://traffic.libsyn.com/zimmcomm/asta-css15-basf-steve.mp3″ text="Interview with Steve Bergschneider, US Crop Seed Enhancement Manager, BASF"]