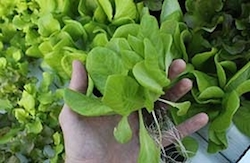 BrightFarms has broken ground on a new Chicagoland Greenhouse in Rochelle, IL.  The start-up company is changing the face of local produce with the first ever nation brand.  Working together with Roundy's Supermarkets, and the greenhouses will supply the grocery chain with produce, hopefully in 2016.
A model for the future of local, low-impact farming, the BrightFarms Chicagoland Greenhouse will be the most productive farm in the Chicagoland market, the most sustainable source of year-round baby greens and tomatoes in all of Illinois, and among the most productive salad greens farms, per square foot, in the world. It will create permanent green collar jobs, significantly reduce food miles, and improve the environmental impact of the food supply chain.
A cutting-edge, scalable solution to Americans' increasing demand for local and sustainable food, The BrightFarms Chicagoland greenhouse will be 160,000 square-feet and grow over 1,000,000 pounds of the freshest and most flavorful salad greens, herbs and tomatoes per year. The greenhouse will use 80 percent less water, 90 percent less land and 95 percent less shipping fuel than conventional produce companies and significantly less energy to grow its products than the items it replaces on supermarket shelves. All produce will be pesticide-free.
"Consumer demand for local is growing exponentially — and for good reason: long distance produce hurts the environment and compromises freshness, quality and taste," said BrightFarms Chief BrightFarmer (CEO), Paul Lightfoot. "This greenhouse farm will allow Roundy's to provide its customers with year-round produce that is not only garden-fresh, but that conserves land and water, eliminates agricultural runoff and reduces greenhouse gas emission."
"We're thrilled that our stores will be able to deliver consumers the freshest, most local greens, herbs and tomatoes possible," said Bob Mariano, CEO and chairman of Roundy's. "BrightFarms is a model for the future of food and we look forward to exemplifying, together with them, what that future should look like."