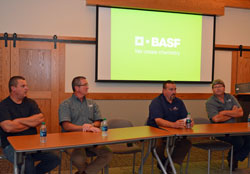 Central Illinois has definitely gotten a lot of water this growing season so far and corn and soybean farmers are having to adjust their plans accordingly.
During a panel discussion at the BASF Midwest Research Farm this week, we heard from a farmer and his team of advisers on just how this season is impacting crops in the region. From left to right pictured here are farmer Mark Winship from Canton, Illinois; BASF customer business representative Lance Roskamp; Shannon Chenoweth, Fulton FS crop consultant; and BASF Innovation Specialist Dave Phelps.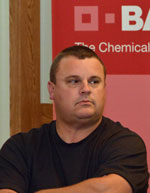 Winship says the season started out good but started going bad in June with record rainfall and all the problems that have come with that. "Flooding, drowned out spots in the field, weed control, getting beans sprayed, all that," said Winship. "It's not a good situation right now." [wpaudio url="http://traffic.libsyn.com/zimmcomm/basf-IL-farmer-winship.mp3″ text="Interview with Illinois farmer Mark Winship"]
That same situation is being experienced by growers across Illinois and Fulton County where Winship farms is one of the hardest hit areas. "The corn up until about three weeks ago was phenomenal," said Chenoweth. "Anywhere from 15 to 20 inches of rain in June has definitely taking it's toll."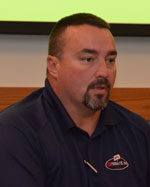 While growers work with their consultants to develop a weed control plan for the season, Mother Nature sometimes causes the best laid plans to change. "We had Plan A, everything was working well, we were able to stick to it until about the second week of May," said Chenoweth. Then the rains came and growers have just not been able to get in the fields to spray so the weeds are getting away from them. "I've got the biggest weeds I've ever had to spray before," he said. [wpaudio url="http://traffic.libsyn.com/zimmcomm/basf-IL-fulton-fs.mp3″ text="Interview with Shannon Chenoweth, Fulton FS"]
During the panel discussion, Roskamp and Phelps talked about their roles in helping growers like Winship adapt their weed control plans in the face of adverse conditions to take advantage of the windows as they become available and take care of disease problems which are also starting to develop.
Listen to the panel discussion, moderated by BASF's AJ Woodyard, here: [wpaudio url="http://traffic.libsyn.com/zimmcomm/basf-IL-panel-full.mp3″ text="BASF Midwest Research Farm panel"]
Driving from Bloomington to Champaign and back this week I was able to see the problems in the fields and would have liked to have taken some photos to share, but … yeah, it was raining. Not only that, today the temperature dropped to about 58 degrees with steady rainfall – not like July at all!