The Senate Committee on Agriculture, Nutrition and Forestry held a hearing Tuesday to review the U.S. Grain Standards Act, which has provisions that expire this year. The act authorizes USDA's Federal Grain Inspection Service to establish marketing standards for a variety of grains and oilseeds and was last reauthorized in 2005.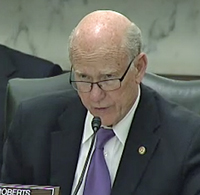 "Predictability and transparency are key to maintaining a global success story for farmers and ranchers in Kansas and across the country. Needless to say, the valuable role that our trading partners play in the agriculture economy cannot be overstated," said Committee Chairman Pat Roberts (R-KS).
Testimony was presented at the hearing by American Soybean Association board member Bill Gordon of Minnesota, American Association of Grain Inspection and Weighing Agencies President David Ayers, National Grain and Feed Association representative Tim Paurus and North American Export Grain Association vice chairman Steve Campbell.
"Our industry and our foreign customers are highly dependent on having a reliable and transparent export inspection and marketing system," said Gordon in his testimony. "It is critical that the requirement for mandatory official inspection of exported grains and oilseeds under the Grain Standards Act be maintained. In addition, there must be no question that, in the event of a disruption of services, FGIS will continue to be required to step in to ensure the reliability and reputation of the U.S. inspection and weighing system."