Two yield rocking champions played to a standing room only crowd at the 2015 Commodity Classic in a session sponsored by BASF Crop Protection on how to get the most out of your acres.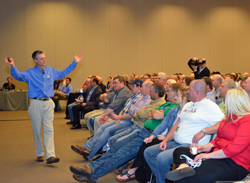 Always a crowd pleaser, world champion soybean grower Kip Cullers of Missouri hammered home the importance of happy plants and packing starch. "You keep that plant alive, happy, healthy and growing," said Cullers. "Keep the factory alive, keep packing starch, increase your seed weight, you kernel size, and that's just the way it works."
"It's a total system approach," he added. "You gotta do everything right to the best of your ability and hope Mother Nature works with you." [wpaudio url="http://www.zimmcomm.biz/basf/classic15-basf-kip.MP3″ text="Interview with Missouri farmer Kip Cullers"]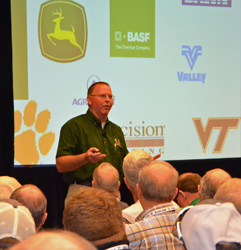 National Corn Yield Contest multiple winner David Hula of Virginia put his advice in the form of the Farmer's Hand to Success.
"Starts out with the thumb for a positive attitude – thumbs up," said Hula. "Then your index finger, what you can point to that you did right or wrong."
The middle finger Hula calls the "mechanical finger" and represents equipment, the ring finger represents relationships and the importance of seed. "Because that is emotionally driven but it's very important to us," he explains. The whole palm represents gratitude to the Good Lord in prayer. Amen! [wpaudio url="http://www.zimmcomm.biz/basf/classic15-basf-hula.mp3″ text="Interview with NCYC winner David Hula of Virginia"]
2015 Commodity Classic Photo Album