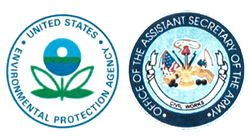 The Environmental Protection Agency and the U.S. Army Corps of Engineers have at least ditched part of the WOTUS rule.
The Interpretive Rule Regarding the Applicability of Clean Water Act Section related to the proposed Waters of the United States (WOTUS) was officially withdrawn by EPA and the Corps in a memo last Thursday, January 29. Congress requested asked for the withdraw of the interpretive rule in the "Cromnibus" funding legislation passed at the end of December.
The goal of the interpretive rule was to clarify normal farming activities exempt from the Clean Water Act but National Corn Growers Association president Chip Bowling says it actually made it less clear. "We hope that the withdrawal of the interpretive rule will allow us to get to the true matter at hand: how the Clean Water Act is administered," said the Maryland farmer who brought EPA officials out to his farm last fall to discuss the proposed rule. "Farmers are committed to improving water quality and conservation practices. We look forward to working with Administrator McCarthy and the EPA as they finalize the WOTUS rule, to ensure it is clear and workable for farmers."
National Milk Producers Federation is pleased to see the interpretive rule withdrawn because it would have placed USDA's NRCS in the role of "enforcer" for the provisions. "Our concern with the initial proposal from last year is that it could have altered the long-standing and productive relationship between farmers and the USDA's Natural Resources Conservation Service, in a way that would have made it harder for farmers to implement water conservation measures," said Jamie Jonker, NMPF's Vice President for Sustainability & Scientific Affairs. "We're pleased the EPA and Army have recognized that this regulation could have backfired, and that they've taken the necessary step to withdraw it."
The interpretive rule was just part of the larger WOTUS proposal issued last year which is still under review by both EPA and the Army Corps of Engineers, as well as by Congress.