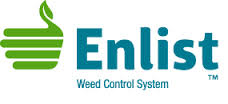 USDA has issued a decision to deregulate Dow AgroSciences' Enlist™ 2,4-D and glyphosate-resistant corn and soybean traits in the United States. The company is now awaiting EPA registration of Enlist Duo™ herbicide, the companion herbicide to the Enlist traits.
"Enlist will help farmers increase their productivity to meet the growing demand for a safe and affordable food supply," said Tim Hassinger, president, Dow AgroSciences. "We've used the latest science and technology to address problem weeds. Enlist will be a very effective solution and we're pleased to have this technology one step closer to the farmgate."
The Enlist traits are part of the Enlist™ Weed Control System, a new trait and herbicide technology developed to control herbicide-resistant and tough weeds. USDA's decision applies to the Enlist corn, Enlist soybean and Enlist E3™ soybean traits. Enlist E3 soybeans are being developed through a collaboration between MS Technologies and Dow AgroSciences.
Launch intentions for Enlist in 2015 will be provided after the EPA has issued its decision on Enlist Duo herbicide.