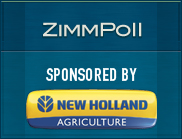 Our latest ZimmPoll asked the question, "What do you think of Right to Farm laws?"
This ZimmPoll struck very close to home for me. As a Missouri farmer, I did what I could to help educate everyone I knew on the truths about the Right to Farm amendment that took a narrow victory earlier this month. I was excited to see that the majority of pollers thought laws such as these were needed to ensure the right to farm for generations to come. I believe we will see more and more states taking action to protect farmers. In my opinion it is a necessity.
Here are the poll results:
Necessary to save farming – 47%
Not necessary – 16%
Too dangerous – 14%
Maybe some states- 5%
Should be federal law – 8%
no opinion – 10%
Our new ZimmPoll is now live and asks the question, What's the most important skill set for ag communications?
College campuses across the country are flooded with students heading to class. With that in mind, we want to know what you feel is the most important skill agriculture communications students need to have mastered when they enter the workforce. Is it still the traditional writing/editing skills or more current social media/blogging skills that employees are seeking?