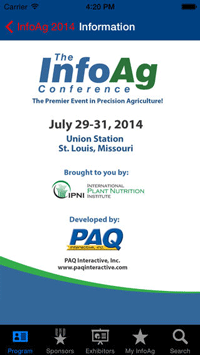 If you're an agnerd and planning to attend the 2014 InfoAg Conference in July add the InfoAg App to your mobile device. The conference is only a few weeks from now and a reason to get the app before you go is so you can create your own "program" of workshops and presentations that you want to attend.
The app is available for iOS and Android. It includes program information, including biographies on the speakers. There is an exhibition map and way to mark the ones that are your top priority.
We'll be on the scene again this year so keep your eye on Precision.AgWired.com for all the latest news in the world of precision agriculture. InfoAg takes place July 29-31 in St. Louis.
On a similar note, we will also have coverage of the 12th International Conference on Precision Agriculture taking place the week before in Sacramento, CA.