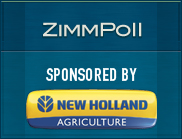 Our latest ZimmPoll asked the question, "What is the MOST important part of sustainability?"
The environment is the number one thing on pollers mind when it comes to sustainability. The economy came in with a close second. Those resources and are utilized daily when it comes to agriculture. What are you doing to make them more sustainable?
Our poll results:
Environmental – 35%
Economic – 28%
Human resources -5%
Public policy – 5%
Inputs – 0%
Energy – 12%
Other – 15%
Our new ZimmPoll is now live and asks the question, "Is climate change impacting agriculture?"
The White House released a sweeping climate change assessment this week that has a large section on how agriculture is being impacted. What do you think about that?