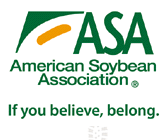 In a letter to Agriculture Secretary Tom Vilsack this morning, the American Soybean Association (ASA) and six other national farm groups urged USDA to consider the needs of soybean growers and growers of all crops when awarding funds included in the 2014 Farm Bill to land grant universities for the development of websites and web-based tools to assist producers in deciding which of the new law's farm programs to sign up for.
"Given the complexity of choices in the commodity and crop insurance titles of the farm bill, these tools will be critical for producers in our organizations to make well-informed decisions," wrote the groups in the letter. "It is important that academic institutions representing different regional views on farm programs participate in this work. As a result, we urge you to select a lead institution possessing substantial experience with revenue-based risk management tools and representing a broad-based, national consortium of land-grant universities. In order to be effective, these web-based decision tools will need to come from institutions that have both the confidence of producers and a strong familiarity with the cropping practices and farm economics of the Midwest and northern Great Plains, which have the majority of acres subject to program decisions."
The letter came following the Senate Agriculture Committee's hearing this morning on USDA's implementation of the farm bill, and included the American Farm Bureau Federation, National Association of Wheat Growers, National Barley Growers Association, National Corn Growers Association, the National Sunflower Association and the U.S. Canola Association, in addition to ASA. USDA anticipates making its awards for website development and other decision aids on May 22, with the final tools expected to be in place by late summer.