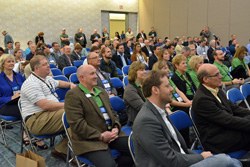 Member of the National Corn Growers Association Board and director of Western Iowa Energy, LLC, Kevin Ross, chatted with Chuck after the opening session at the 2014 National Biodiesel Conference. They discuss farm policy and how precision agriculture technology has impacted his farming operation where he raises cattle and grows corn and soybeans.
Kevin shared that if we don't move past what RFS has already provided then we become stuck and the innovation stops. He says everyone needs to do what they can to ensure the investments continue and technologies are utilized. He feels the government has given mixed signals and believes simple education on the issue could help.
"The Renewable Fuels Standard (RFS) itself is vitally important to my operation at home and to my neighbors. Not just from the farming side, but also from the livestock side. Especially, operations like mine in western Iowa where we can utilize the fats and add value back to the livestock. I am not sure how many people know that its even possible. Let alone be done on an industrial scale. Agriculture is about value-added. Creating markets in those new economies within a broader ag industry is what it is all about."
Kevin goes on to discuss what types of precision agriculture they have taken advantage of on his operation.
"On our farm it has been a fast ramp up of precision technology. Just a couple years ago on our own farm we've gone to auto steer. I couldn't plant straight rows if I tried. We also use single row shut-offs and it has been a huge plus for us. Overall newer equipment is more efficient with yield monitors and data that we collect. We are going into a new soil data collection phase on our farm which is an entirely new way of doing it then before. We have made major advancement in the recent years and profitability in ag and RFS have really had a huge role in making that possible."
You can listen to Chuck's complete interview with Kevin here: [wpaudio url="http://zimmcomm.biz/nbb/nbb-14-kevin-ross.mp3″ text="Interview with Kevin Ross"]