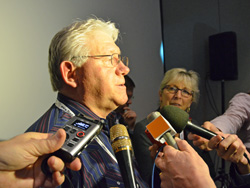 Kansas State University's Dr. Kevin Price was one of the presenters at the 2014 American Farm Bureau Federation Convention. His presentation was titled Drones: Turning Technological Controversy into Profit.
The use of using unmanned aerial vehicles (UAV's) to fly over crops and livestock to maximize profits is one of the hottest topics entering the agriculture sector. He shared how this is all possible using examples of his work at the university.
"About 80% of the money that will be spent on the unmanned aircraft systems will be spent in the area of agriculture. There are ten times more applications in agriculture then there is in any of the other application areas." He continued by saying, "They are predicting this will be a $100 billion industry by the year 2025."
He said agriculture applications for drones in development include data collection on crop health, vigor and yields, tracking the spread of invasive plant species and monitoring cattle feedlots. Data collection of field images by cameras mounted on drones within an inch of accuracy.
When asked where he saw drone use in agriculture going in the next five years he said it was hard to say because interest was growing so rapidly, but "it will blow your socks off." The economic potential of drones is tremendous in terms of precision agriculture but will not be realized without approval from the Federal Aviation Administration.
Wondering what it could cost you? Dr. Price said a fixed-winged aircraft could run a couple thousand dollars to $12,000. Other models might be under a thousand up to $7,000-$8,000. Will you start saving to increase profits in the long run?
Listen to the complete audio from ag media's interview with Dr. Price here: [wpaudio url="http://zimmcomm.biz/afbf/afbf-14-price.mp3″ text="Kevin Price Press Conference"]