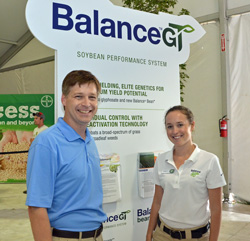 Bayer CropScience is making the fight against weeds a little easier with their soybean herbicide products. The recent Farm Progress Show was a great outlet to share the new and exciting products available for growers nationwide.
Chuck spoke with Eric Peters, Soybean Herbicide Product Manager for Bayer CropScience, during the event and Eric went into more depth about Balance Bean, Balance GT and Liberty products for soybean growers.
"One of the exciting things we've had here recently is we did get US approval the Balance GT for Soybeans. It is the new soybean system that has dual herbicide tolerance. It is a HPPD based herbicide, so it's a different mode of action for soybean growers than what they have had to work with. It will be a total system to provide weed control to growers that offers a good strong broad spectrum soil residual with reactivation combined with the post-merge control of glyphosate to offer a season long control through canopy closure."
Lauren August, Brand Manager for MS Technologies, walked by during the interview so Chuck took advantage of that and asked about the collaboration and working relationship with both companies.
"The relationship is great. We have been working with Bayer for awhile now. We first introduced the Liberty Link system together and we have been working together ever since."

"It's a big step. Just allowing growers to plant multiple modes of action is going to be a big thing for their fields. They are really going to be able to combat some weeds that maybe they haven't been able to. It's also going to give them another tool in their tool belt to continue fitting those tough weeds."
Listen to Chuck's complete interview with Eric and Lauren here: [wpaudio url="http://zimmcomm.biz/farm-progress/fps-13-bayer-peters-august.mp3″ text="Interview with Eric Peters & Lauren August"]
2013 Farm Progress Show Photo Album
Coverage of the 2013 Farm Progress show is sponsored by Bayer CropScience, Growmark and New Holland