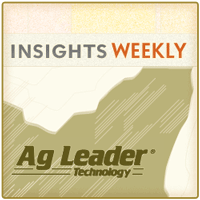 Growers looking for a simple and affordable precision farming display now have an entry-level solution, thanks to the new Compass™ display from Ag Leader Technology, Inc.
The Compass display was designed for growers who want a display to use primarily for guidance. With a built-in lightbar, the Compass display provides on-screen guidance and coverage mapping that allows operators to improve pass-to-pass accuracy and easily track where they have been in the field, reducing costly gaps and overlaps.
Mike Olson, Ag Leader North America Sales Manager, was on hand to talk about the new display during Farm Progress Show. He says Compass is simple to operate and set up guidance operations. "The user doesn't need to know how to set up field information within the display to operate, with the new event feature they can simply create a new event each time they enter a field and go."
[wpaudio url="http://precision.agwired.com/wp-content/uploads/sites/3/2013/08/fps13-agleader-olson.mp3″ text="Interview with Mike Olson, Ag Leader"]
Become a fan of Ag Leader on Facebook today, and get the latest precision ag videos on the YouTube channel. For more information about Ag Leader products and services, or to visit the blog site, go to www.agleader.com.