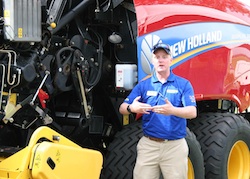 Now here is a new toy for all those commercial hay operations, straw contractors and owner-operators shipping world-wide. New Holland Agriculture's Next Generation BigBaler 330 produces 3'x3′ bales and the BigBaler 340 produces 3'x4′ bales.
Provides up to 20% more capacity with up to 5% more density with patented "C" Shaped Shuttle design.
Increased baling speeds of 110 bales per hour.
PTO driveline design brings improved durability with efficient and faster feeding.
Proven pre-change chamber along with 48% increased flywheel inertia ensuring consistent and dense flake formation with less driveline.
SMART features including Smart Fill Indicators, Crop Saver and Crop ID.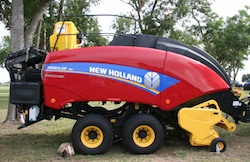 Mark Lowery, Hay & Forage Marketing Specialist, focuses on crop packaging and baling equipment and served as our BigBaler expert for the day. While interviewing Mark, he gave light into the new technologies used to bring New Holland's 2014 lineup front and center when it comes to hay and forage production in North America.
Listen to my interview with Mark from here: [wpaudio url="http://zimmcomm.biz/new-holland/new-holland-ag-13-lowery.mp3″ text="Interview with Mark Lowery"]
View photos from the event here: 2013 New Holland Ag Media Event Photo Album