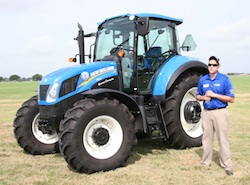 The two tractors highlighted during New Holland Agriculture's First in the Field Media Event included the T5 and T6 series tractors. The new T5 has redefined utility tractor standards for mixed farmers with diversified livestock and crop operations. And the T6 has been further enriched by the addition of Auto Command.
T5 Series:
– 3.4L F5D Tier 4A emission complaint engines that utilize a Cooled Exhaust Gas Recirculation system & a Diesel Particulate Filter.
– Heavy-duty components that enable long hours of working on the farm.
– A broad loader offering further enhanced versatility.
– VisionView cab provides ultimate comfort and visibility.
– Ergonomic CommandArc console provides the operator with perfect placement of controls.
T6 Series:
– Auto Command transmission for enhanced efficiency.
– Multi-award-winning Side Winder II armrest.
– Upgraded Horizon Cab for outstanding all-day comfort.
– Powerful hydraulics boasting 33 gal. per min. of flow capacity.
– Blue Power edition for a touch of farming luxury.
– ECOBlue SCR technology which will reduce fuel consumption by up to 10%.
Mike Sevick, Marketing Specialist in Dairy & Livestock Brand Marketing, specifically works with T4, T5, T5 Electro Command, T6, T6 Auto Command and TS6 series tractors. While explaining all the new features of these tractors, Mike was excited to share the dealers enthusiasm while they got behind the wheel of these blue beauties. He even stated that many are looking for them to replace the T6020 and T6030 tractors.
Listen to my interview with Mike from here: [wpaudio url="http://zimmcomm.biz/new-holland/new-holland-ag-13-sevick.mp3″ text="Interview with Mike Sevick"]
View photos from the event here: 2013 New Holland Ag Media Event Photo Album