It's been an interesting year for farmers this year with weather extremes and planting challenges, and bugs are getting in on the act as well.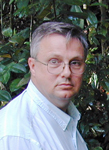 "We're running into some interesting things likes true armyworms in wheat and in corn, and seed corn maggots, and all sorts of things," said GROWMARK Insect/Plant Disease Technical Manager Kevin Black.
Kevin's number one recommendation for growers is patience. "We're looking at a number of fields right now that are turning yellow because of too much moisture and some cases where compaction was created earlier because of the rush to try to get crops that were already late in the ground," he said. "Patience was called for then and patience is still called for."
Cereal leaf beetle is one pest they have seen in wheat in southern Illinois, which he says is not a real serious threat right now but can be kind of nasty. "The larvae that cause most of the damage have a rather disgusting habit that they cover themselves with their own fecal material to help ward off parasites and predators," he said.
The best line of defense for growers is scouting. "So many of the issues that we face can be taken care of if we catch them in a timely manner," Kevin added.
Listen to my conversation with Kevin here: [wpaudio url="http://zimmcomm.biz/growmark/gmk-kevin-bugs.mp3″ text="Kevin Black Interview"]