Teams of Purdue University students who created fiber insulation from soybeans and a fireworks casing from corn won the top prizes in the annual Student Soybean and Corn Innovation Contests. The awards were announced at a reception March 20th, 2013 in Indianapolis.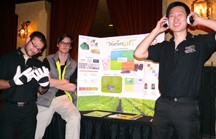 The competitions, sponsored by the Indiana Soybean Alliance and Indiana Corn Marketing Council, teach students how to be innovative entrepreneurs with soybeans and corn. Both teams received a $20,000 prize for their work.
The winning soybean team produced Nature Loft, a soy protein fiber insulation that can be used in bedding, including sleeping bags; apparel such as hats, gloves and footwear; and other products such as headphones.
The winning corn team created Sky Maize, a biodegradable fireworks casing that is lighter and less expensive than what is now commercially available.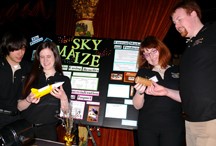 Winning $10,000 the second-place soybean team developed water-soluble Double Eyelid Glue.
The second-place corn team also winning $10,000 created Fog-Away, an anti-fog glass and mirror cleansing solution.