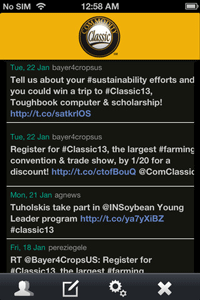 The 18th Annual Commodity Classic has launched their first-ever mobile app for this year's event in Kissimmee, Fl. The app will allow attendees to access information, receive messages and engage in social media from their smart phones and tablets. You can even make your own schedules, take notes, lookup session and event times and navigate with maps.
Visit www.commondityclassic.com/app to download it now or check out the App Store on your mobile device and search Commodity Classic. I just did and can't wait to attend my first ever Commodity Classic. And the best part about it is it's free!
In less than two weeks, soybean, corn, wheat and sorghum growers will be traveling to the far Southeast from across the county to take in the sights of Kissimmee, Fl. Producers will be educated about important agricultural issues, enlightened by new product rollouts and entertained by all the events coordinators have planned.
"The innovation you'll witness and information you'll gather at Commodity Classic will absolutely change the way you farm," said Commodity Classic co-Chair Bob Worth. "Agriculture faces new challenges every year, and Commodity Classic's educational sessions and opportunities to speak with other growers and industry leaders will arm attendees with the tools they need to overcome these challenges and increase the profitability of their farming operation."
The 2013 Commodity Classic takes place February 28-March 2 at the Gaylord Palms Resort & Convention Center and the Orlando World Center Marriott in Kissimmee, Fla., and is presented annually by the National Corn Growers Association, American Soybean Association, National Association of Wheat Growers and National Sorghum Producers.