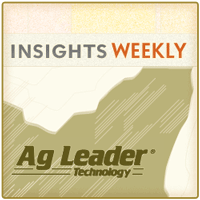 Improved soil tilth for better root development, lengthened planting windows and better nutrient access for crops are just a few benefits of field tiling. A new family of functionality for Ag Leader's INTEGRA™ display, called Intellislope™, makes achieving those benefits easier and more economical for growers to do themselves by simplifying planning, installation and documentation of field drainage tile.
Intellislope allows growers to survey the field and plan tile line location, grade and depth without the use of surveying lasers and equipment. Using a Soil-Max™ tile plow or similar equipment, an operator can then easily install drainage tile at the correct depth and grade using Intellislope's AutoTile™ mode. After installation, data can be archived into SMS™ for software record keeping and analysis.
Aaron Friedlein, Ag Leader product manager, was conducting demonstrations of Intellislope during last week's Farm Progress Show. Watch him talk about it in the video below.
Become a fan of Ag Leader on Facebook today, and get the latest precision ag videos on the YouTube channel. For more information about Ag Leader products and services, or to visit the blog site, go to www.agleader.com.