Just call it the "biggest bang for the buck in the precision ag industry."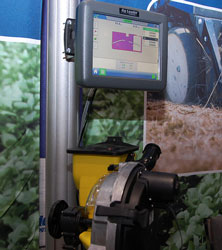 It's the Ag Leader Technology VERSA display, which has all of the most popular year-round precision tools – including guidance, auto-steering control, SeedCommand planting control, DirectCommand application control, yield monitoring and mapping – in one small package.
"For growers who are just getting started in precision ag or for growers who need a second monitor, this is definitely a great option," said Ag Leader's Russ Morman at last week's National Farm Machinery Show. It was the first time most farmers at the show had been able to see the monitor, because it is basically brand new. "We introduced it late last year and we actually just started shipping them in the last week or so."
Russ says response to the new monitor has been very good. "I've had numerous guys come by and say "hey, I ordered one of these I just wanted to see what they looked like in person."
Response to all things Ag Leader has actually been very good from farmers everywhere. "We've expanded our presence everywhere," said Russ, noting that Ag Leader is celebrating its 20th anniversary in precision ag this year. "Canada, the south, east and west – and all over the world, for that matter. We're actually opening offices overseas right now."
Find out more about VERSA and Ag Leader in this interview with Russ: [wpaudio url="http://zimmcomm.biz/nfms/nfms12-versa.mp3″ text="Russ Morman Interview"]
Thanks to Ag Leader Technology for helping us provide coverage of the 2012 NFMS and for their support of the agriculture industry!
2012 National Farm Machinery Show Photo Album
Coverage of the National Farm Machinery Show is sponsored by Ag Leader Technology