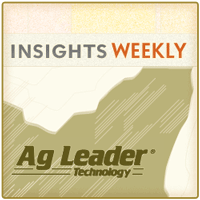 Rick Greene, Precision Agronomy Manager for MFA Incorporated in Columbia, Mo., an Ag Leader Blue Delta Dealer, recently spoke at a Congressional Hearing in Washington, D.C. about preserving the integrity of GPS systems.
In his testimony, Greene said, "I began my precision agriculture journey in 1995 when my father purchased one of the first yield monitoring systems with GPS. While at Iowa State University, as accuracy improved, I came to love what precision agriculture can do for farming by preserving the environment, minimizing inputs, and maximizing yield to give our farmers a greater return on their investment."
Over the years, GPS and technology have evolved exponentially. Efficiency and increased productivity is the key to farmers' survival in this global market.
Jess Lowenberg-DeBoer with Purdue University did a study in 2004 on a 1,800-acre model farm and found that a farmer will decrease his hours of operation by 17% if they use high accuracy GPS. This decrease includes fuel, maintenance, labor hours, and inputs like seed, pesticides and fertilizer.
The precision agriculture industry has over 400,000 high accuracy receivers valued ~ $13,000 with a replacement cycle of 10 to 15 years and adds approximately $19.9 billion per year of value to the grower.
For MFA alone, more than 700,000 grower acres are in GPS nutrient management, 9.5 million acres covered with high-accuracy RTK correction, and the company has sold almost $20 million dollars of GPS equipment to farmers that will be directly affected by the implementation of LightSquared Ancillary Terrestrial Component (ATC).
GPS technology enables growers to produce more food for a growing population both domestically and internationally. If LightSquared takes away the ability to use GPS systems, growers will be forced back to the days of when analog TV was as good as it gets and you took your corn to town in a horse-drawn wagon. And, the cost of food will go up dramatically. Are consumers willing to pay that price just for high-speed broadband that isn't much better than what they currently have?
Greene tells us more about the numbers should farmers lose the ability to run high-accuracy GPS systems. And this is only with MFA's customer base.
[wpaudio url="http://precision.agwired.com/wp-content/uploads/sites/3/2011/10/Greene1.mp3″ text="Listen to Greene explain."]
According to Greene, LightSquared must not be allowed to broadcast their signal in the upper or lower bands of GPS until a feasible and economical resolution is found.
Greene says, "It is the accuracy of GPS that makes the technology important to agriculture, and farmers should not be expected to accept or live with a disruption in their service as a result of LightSquared's actions. Ideally, a solution will be found that allows GPS and wireless broadband to co-exist, but LightSquared and GPS providers will have to work together. We believe that farmers, ranchers and GPS companies should not have to bear any additional financial burden in resolving this issue."
What can growers do to stop LightSquared from proceeding? Greene says it here, short and simple.
[wpaudio url="http://precision.agwired.com/wp-content/uploads/sites/3/2011/10/Greene2.mp3″ text="Listen to Greene explain."]
Watch Greene's full Congressional testimony here. And for more information, visit the Coalition to Save Our GPS website.
Become a fan of Ag Leader on Facebook today, and get the latest precision ag videos on the YouTube channel. For more information about Ag Leader products and services, or to visit the blog site, go to www.agleader.com.