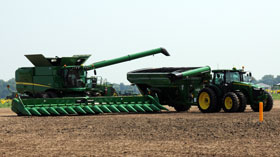 John Deere unveiled a product that you couldn't see on the show floor at this week's product launch in Indianapolis, IN. It's called Machine Sync. This new technology provides "timely, critical information on equipment location, operational status and automates equipment during harvest."

"Having real-time data is critical for equipment operators during harvest," says Holli Brokaw, AMS product manager for John Deere. "Our new Machine Sync and Machine Communication Radio provide the accurate, in-field information producers need to maximize efficiencies during the hectic harvest season."
The Machine Communication Radio is the first radio on the market that can create an in-field, high-speed wireless network to facilitate machine-to-machine communication. The radio is designed to enable up to 10 vehicles in a single network to distribute data between one another when operating within a three-mile radius.
The radio, which is easy to set up and use, teams up with the Machine Sync activation and GreenStar™ 3 2630 Display and StarFire Receiver to create the in-field network to share logistics information.
Machine Sync is a John Deere exclusive system that takes harvest automation to the next level and the first application that uses the Machine Communication Radio hardware.

At this media day preview we got a field demonstration of how Machine Sync work from John Deere's Bob Dyer. This was a simulated corn harvest demonstration where the combine and tractor/grain cart were "in sync." I asked Bob to describe how the system works and you can also see the demonstration in the video.
You can listen to my interview with Bob here: [wpaudio url="http://zimmcomm.biz/john-deere/jd-launch-11-dyer.mp3″ text="Interview with Bob Dyer"]