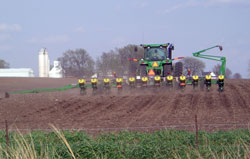 The new planted acreage report from USDA shows just how fast farmers can plant with the latest technology.
According to USDA, corn planted area for this year is now estimated at 92.3 million acres, up 5 percent from last year, and the second highest planted acreage in the United States since 1944, behind only the 93.5 million acres planted in 2007. Growers expect to harvest 84.9 million acres for grain, up 4 percent from last year.
"These numbers show that a spring delay in the northern hemisphere, even when severe, if producers get an opening they have the horsepower and technology to make up for it in a big way and on a very large scale," said James Bower from Bower Trading during a market commentary conference call this morning from the Minneapolis Grain Exchange. "Particularly in Ohio and Indiana, we were really getting close to prevent plant, one or two more rains and that was it. But we had about a four day window in late May and with the horsepower and technology those farmers worked day and night – it was almost scary."
Farmers in Ohio and Indiana planted 20-30 percent of their corn acreage the first week of June, and Ohio whipped through another 40% between June 5-12 so that essentially all of the corn nationwide was planted by June 12. Ohio had only 11% planted by May 23 compared to 87% the same time last year.
Wheat acres are also up five percent in the USDA report, but soybean acreage is down three percent.