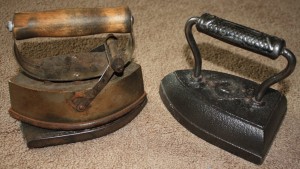 I really dislike ironing. So much so that if I find a shirt I like and it's 100% cotton, I'll put it back on the rack. It has to be one fantastic piece of clothing for me to buy it if it needs ironing.
When my grandmother was growing up, they ironed everything: sheets, pillowcases, clothes, kitchen towels. They used sad irons – also known as flat irons or smoothing irons. The sad in sad iron is an old word for solid. And boy was this thing solid, weighing in at 8 pounds. They had metal handles, so they had to be picked up with a pad or thick rag. Some irons had wooden handles and in 1870 a detachable handle was patented in the U.S. (the iron pictured on the left was patented May 22, 1900). This stayed cool while the metal bases were heated on the stove.
You see, in order to iron properly, at least two irons in operation – one on the stove heating up while the other was in use. So not only did they iron, they had two or three going at one time!
The key to success was temperature. It is said that a little spit on your finger and if it sizzled, it was hot enough, but not so hot that it would scorch the cloth. The iron pictured on the left is sitting on a trivet. This was placed on the ironing board and when the iron was not in use, it was placed on the trivet as to not burn the ironing board cover.
Really though, I did iron a dress just two weeks ago. I had to wipe the dust off my iron and dig out my ironing board, but that's beside the point.
I think I'd rather get out my steamer and use these old ones as cool bookends.
Until our next history lesson …