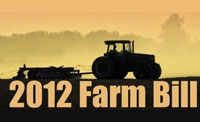 As work toward a new Farm Bill officially begins some are calling for a "whole-system redesign" of U.S. agriculture.
A recent report from the National Research Council Committee on Twenty-First Century Systems Agriculture has proposed a new direction for farm policy that would "incorporate innovative agricultural systems such as organic farming, grass-fed and other alternative livestock production systems, mixed crop and livestock systems, and perennial grains…. it would require significant changes in market structures, policy incentives and public funding for agricultural science."
Increasing use of precision farming techniques is one of the recommendations made by the team, which included agricultural academics as well as farmers, suggesting "both incremental and transformative changes. Incremental changes include adopting two-year crop rotations and employing precision agriculture practices using geospatial technologies that track field variation, classically bred or genetically engineered crops and reduced- or no-tillage practices."
The Senate agriculture committee started hearings on the 2012 Farm Bill last week. While USDA is not planning to propose a version of the Farm Bill as it has in the past, Agriculture Secretary Tom Vilsack recognized the obvious fact that agriculture policy will be affected by budget cuts. "I have no doubts that the next Farm Bill will be smaller than the one agreed to in 2008. In acknowledging that reality, I hope that this Committee will give serious thought to your priorities for American agriculture – your priorities for USDA – and to the values of the American people," he told the committee.
Today, the first field hearing is being held in the home state of chairwoman Debbie Stabenow of Michigan, featuring agricultural representatives of all sectors, from corn and soybeans to cherries and apples.