Volunteers are needed for the annual Wisconsin Farm Technology Days event this summer.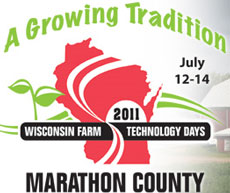 The three-day outdoor event showcases the latest improvements in production agriculture, including many practical applications of recent research findings and technological developments. Each year, it is held in a different Wisconsin county – on a different host family farm. This year's host is Seehafer's Acres in Marathon County. The dates are July 12-14 and the theme is "A Growing Tradition."
About 1200-1500 volunteers are needed to help with the preparation before the show, during the show and for cleanup after the show. Volunteers will receive a t-shirt and admission pass. If you or a group of people are interested in the opportunity to be part of Wisconsin's largest outdoor agriculture show right here in Marathon County, please contact Diane Borchardt at diane.borchardt@co.marathon.wi.us.
Next year's event will be held in Outagamie County and in 2013 it will be in Barron County. The theme for the 2012 WFTD is "Innovations in Agribusiness," but no theme has been chosen yet for 2013 and they are looking for ideas.